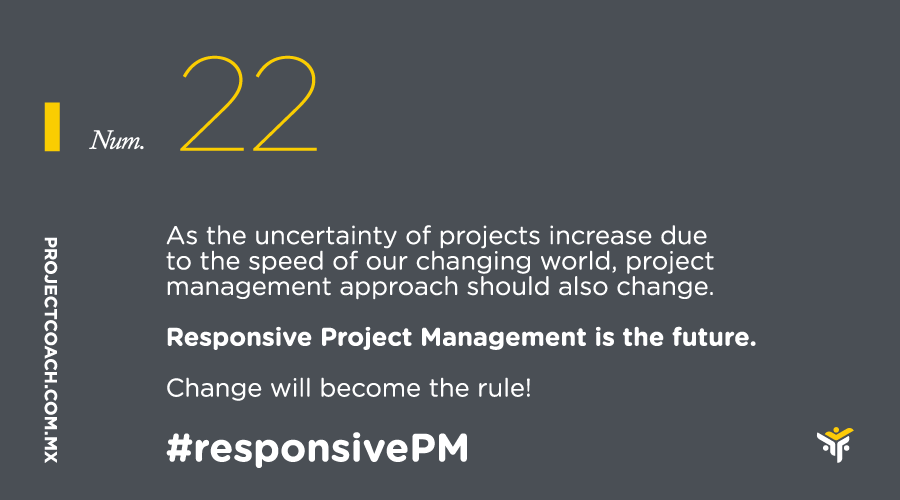 12 Oct

CHANGE IS HERE

"As the uncertainty of projects increase due to the speed of our changing world, project management approach should also change; responsive Project Management is the future.

Change will become the rule".

PROJECTCOACH

We wrote this quote 2 years ago; not in our wildest dreams we could imagine a scenario of change like the one we are living in 2020.

And yet, this is totally applicable to our reality in Project Management Practice.

The nature of the projects is evolving, for example, last week I had a meeting with a client that has an enterprise change project in her company, the project challenge is: "We need to change the way CEO´s in our company are directing their teams, we need to implement a new mindset of working"

Gantt charts, Budgets or a WBS are not enough to manage such a project, we need to understand People and Deliver business results.

In the 2021 PMP exam, PMI is proposing a new way to see projects, 3 DOMAINS of Project Management and tasks to perform in each domain:
PEOPLE

Manage Conflict
Lead a team
Support team performance
Empower team members and stakeholders
Build a team
Address and remove impediments, obstacles, and blockers for the team
Negotiate project agreements
Collaborate with stakeholders
Build shares understanding
Engage and support virtual teams
Define team ground rules
Mentor relevant stakeholders
Promote team performance through the applications of emotional intelligence
PROCESS

Execute project with the urgency required to deliver business value
Manage communications
Assess and manage risk
Engage stakeholders
Plan and manage budget and resources
Plan and manage schedule
Plan and manage quality of products / deliverables
Plan and manage scope
Integrate project planning activities
Manage project changes
Plan and manage procurement
Manage project artifacts
Determine appropriate project methodology / methods and practices
Establish project governance structure
Manage project issues
Ensure knowledge transfer for project continuity
Plan and manage project / phase closure or transitions
BUSINESS ENVIRONMENT

Plan and manage project compliance
Evaluate and deliver project benefits and value
Evaluate and address external business environment changes for impact on scope
Support organizational change
Project Managers get ready… Change is here, it is time to Skill up!